Check out the latest News from BRHBA!
Installation of Board & Officers
Due to the current restrictions limiting gathering, BRHBA has, unfortunately, been forced to cancel our Installation Dinner.  Typically held in late January, this event highlights the successes of the previous year while installing the Board of Directors and Executive Officers for the coming year.
One of the worst parts about not being able to gather is missing out on recognizing those individuals who helped move our association forward through their hard work and volunteerism.  We would like to take a moment to recognize those members who stood out in 2020 and congratulate them on their achievements.
2020 Associate of the Year Award: Christoph Reinicke, AirLens, LLC
A new member in 2020, Christoph pivoted his AirLens, LLC business plan to incorporate Matterport tours, and in doing so, successfully helped us plan and execute our first ever Virtual Parade of Homes.  He worked closely with the builders in the Parade to provide Matterport tours for those who needed them as well as provided videos of each home in the Parade.  He also created and hosted a beautiful Virtual Parade of Homes website that helped make our Parade of Homes an unprecedented success.  He served faithfully on the Parade of Homes Committee and was ALWAYS available to answer questions and make changes as needed.  Thank you Christoph for your hard work, and congratulations!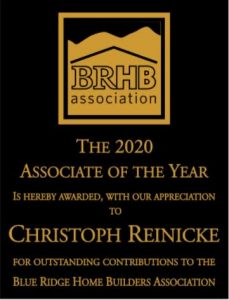 2020 Excellence in Service Award:  Brice Craig, Craig Builders
Brice became a Board Member in 2020, and while he is no stranger to the association, he jumped into his Board duties with both feet.  Brice served on the Membership Committee as well as the Programs Committee.  He used his position as a Board Member to reach out to new, current and past due members with no hesitation.  He also helped plan, execute and sponsor our Holiday Party which helped us raise over $1600 for Toy Lift - all while on call to welcome a new baby!  Thank you and congratulations Brice, for this well deserved honor.
Congratulations to Christoph, Brice and Eric for their outstanding contributions to the Association in 2020.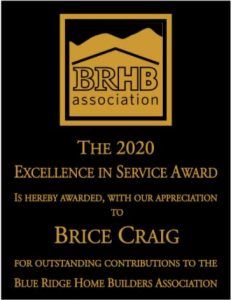 2020 President's Award:  Eric Robertson, Smith & Robertson, Inc.
Eric Robertson served as the Treasurer on the Executive Committee in 2020.  In his 2nd year on the Board, Eric served as Chair of the Finance Committee, as well as volunteered on the ShelterPAC, Programs and Work Force Development Committees.  He never once hesitated to follow through with one of his commitments, and he helped make significant progress on developing a relationship with CATEC for our Work Force Development initiatives.  He is a true asset to the Board and we are honored to have him Chair our Programs Committee and serve as our President-Elect in 2021.  Congratulations Eric on a job truly well done.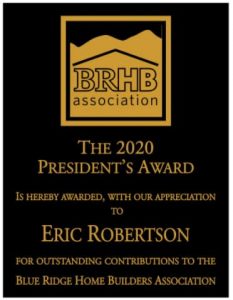 We have one additional award to give out.  This privilege is only given every so often to a member of the Board of Directors for their meritorious service over the years to BRHBA.  This particular recipient has also served with both the Home Builders Association of Virginia and the National Association of Home Builders during her tenure as well.  We are honored to welcome a new Life Director to our Association to join those special few before her.
Life Director: Robin Newhouse, Dominion Energy Virginia
Please help me congratulate Robin Newhouse, with Dominion Energy, as our newest Life Director.  Her name will be added to our Plaque commemorating all of our Life Directors at the BRHBA office.  She will also receive a special "Gold" nametag indicating her Life Director status.
2020 Golf Tournament Standings and AHIP Raffle Winners
Home Building Industry Video